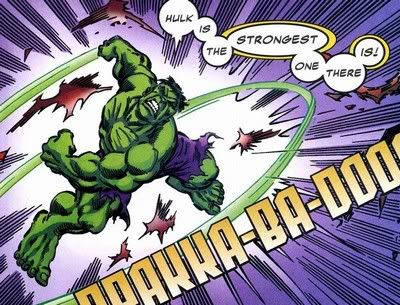 It's been a while since I read
Hulk
on a regular basis. Around the time that
Planet Hulk
was halfway to its finish, I stopped buying single issues. It was just too expensive. Reprint collections were the natural alternative, but even in the cases of TPBs I've been pretty conservative about my buying. A lot of my funnybook reading has been supplemented by the growing GN collections of my local libraries.
Since my break from single issues, Marvel seemed to go insane. Uninitiated as I was with Marvel's new policy of a constant stream of crossovers, I felt completely lost at the prospect of picking up any
Hulk
comics. I remember reading a solicit for
Dark Reign: The List - Hulk
and thinking "How many crossover event names can you actually cram into the title of a single goddamn comic?"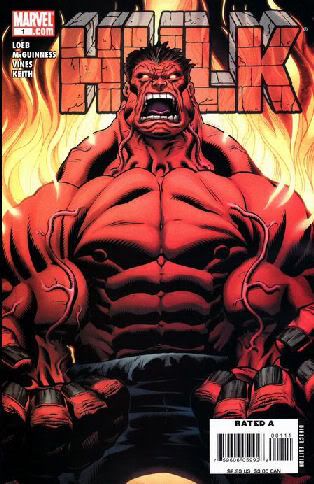 Buying
Hulk, Vol. 1: Red Hulk
to sample the Loeb/McGuinness run did not slow the descent of my opinion of what had become of Marvel. Their
Hulk
was so bad that the success of the Red Hulk made me wonder "Have comic books...
always
been this bad? Have I just been oblivious? Am I experiencing an awakening of how mind-numbingly stupid these things are?" I eventually donated
Red Hulk
to the library. I was relieved to learn that while Loeb and McGuinness were proving how bad a
Hulk
comic could be, Pak returned to
Incredible Hulk
. I picked up
Incredible Hulk
#601 and enjoyed it, but by then I think I was too disheartened to keep reading. I heard later of
Fall of the Hulks
and
World War Hulks
and wondered how many crossovers Marvel would have with the word "Hulk" in it, or whether they could try a Hulkcentric crossover that didn't include the word "Hulk" in the title just for shits and giggles.
After I relaunched Superheroes, etc., I decided to buy some Hulk comics. To be brutally honest, this column is the only reason I did it. By then I had already written last week's
first installment of HULK IS THE STRONGEST ONE THERE IS!!!!!!
and I started imagining a conversation like this:
DUDE-WHO-READS-MY-BLOG: Yeah, I like your blog, man.

ME: Thanks a lot, man!

DUDE-WHO-READS-MY-BLOG: Yeah, I think it's cool that you have a Hulk column. Hulk's pretty cool.

ME: Sure is.

DUDE-WHO-READS-MY-BLOG: Last Month's issue was awesome. Did you read it?

ME: Nope.

DUDE-WHO-READS-MY-BLOG: You didn't read last issue?

ME: Nope, I haven't read the comic in a while.

DUDE-WHO-READS-MY-BLOG: By the way, what's up with that Red Hulk dude? Why is he red?

ME: Yeah, there's some reason for that.

DUDE-WHO-READS-MY-BLOG: Who is he anyway? Did they ever figure that out?

ME: Uh, I don't know.

DUDE-WHO-READS-MY-BLOG:...

ME:...

DUDE-WHO-READS-MY-BLOG: Do you have any other blogs about shit you don't know anything about? 'Cause I really want to learn about brain surgery.
So, I figured I needed to pick up some comics. I went to my local shop and bought
Hulk
#s 26-27,
Incredible Hulks
#s 615 and 617 (they didn't have 616),
I Am an Avenger
#3 (because Hulk's on the cover), and the trade
Incredible Hulk, Vol. 1: Son of Banner
.
There was a lot I liked, there was a lot I didn't like. Overall, I'm glad I picked up the comics because I was pleasantly surprised at quite a few things.
WHAT I DIDN'T LIKE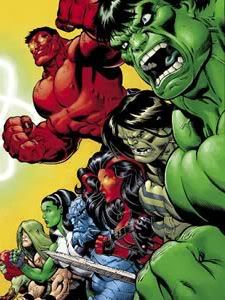 I hate, hate, HATE the name
Incredible Hulks
. Hate it. Freaking Hay-eee-AIT it. I understand. There isn't just Hulk anymore. There's Skaar and A-Bomb and She-Hulk, etc. I just hate the name. He's still the main character. He's still
THE
Hulk. They don't call it
Spider-Men
or
BatIndividuals
.
Speaking of Hulk's new extended family; since
Planet Hulk
I've felt that one of the things Greg Pak understood better than quite a few
Hulk
writers was the need for a likable group of supporting characters, and so we got the Warbound. But I have to say I don't really know how I feel about every single member of the Hulk's supporting cast - including his old sidekick, his wife, his old sidekick's wife, his father-in-law, and some chick he was having fun with for a while before she turned out to be a S.H.I.E.L.D. spy - having frickin' super powers. I mean, Mary Jane, Aunt May, J. Jonah Jameson and Gwen Stacy didn't all get bit by different but similar radioactive bugs.
Of course someone who doesn't have super powers but keeps cropping up in the Hulk comics is Steve Rogers. I've always said I didn't want to see Hulk return to the Avengers because it didn't fit his character. No matter what version of the Hulk you're talking about, the Hulk wouldn't put himself in a situation where he would regularly be expected to take orders from Captain America. Yes, I think the Hulk respects Cap. But I also think they don't have a good history. With Cap taking Hulk's spot in the Avengers in the beginning, Rick Jones leaving Hulk's side for Cap, and all of the violent meetings between the two over the years, I just don't see them working well together. Yet in both
Hulk
and
Incredible Hulks
, they seem to be working in tandem, with Banner at least working very closely with Cap if not taking orders from him. I'm not 100% sure about that relationship yet because I just haven't read enough. But it seems pretty clear, regardless, that when Cap calls, Hulk answers. Overall I'm not sure how I feel about the Hulk making himself available to the Earth as a hero. I don't necessarily
dis
like it, but I'm not sure if I'm okay with it yet.
As far as the
Hulk
comic is concerned, I like it better now that there's a different creative team, and I don't know if this complaint is valid since I've only read the two issues, but judging by those two issues the formula for
Hulk
seems to be: Red Hulk is supposed to work with a superhero, he does, but either right before or right after he does so, he gets in a fight with them. I would assume that gets kind of boring month after month.
WHAT I DID LIKE
This speaks more to pure fanboy glee than story quality, but I can't remember a time when Hulk has enjoyed such a high profile in the rest of the Marvel Universe. If it weren't for the stupidly high price of floppies these days, I would've bought a lot more than I did. When I went to the comic shop, every three Marvel comics seemed to feature Hulk on the cover.
Of course guest appearances come with their own risks, including what version of the Hulk the various writers will choose to write. As far as Pak's particular version is concerned, I'm very happy. Not only is he not keeping with Loeb's re-savaged Hulk, but I think the Banner/Hulk dynamic has never been more interesting. With past versions of the Hulk the divisions between the two were simple and clearly marked. Now, the relationship between the two seems more complex. Banner and Hulk seem more like respectively whole people stuck together at the hip rather than two halves of the same whole.
I felt ambivalent about Pak's fresh take on Banner at first. Ever since Peter David, most of the long term
Hulk
writers have made Bruce more of a hero in his own right, but never to this degree. Pak's Banner could be a superhero all by himself without his green alter-ego. I think overall I'm thrilled about it, but part of me balks at the idea because in a lot of ways Banner seems like an older version of Amadeus Cho, and the Hulk fanboy in me has a problem with that in an old vs. new kind of way.
Speaking of old vs. new, we have the Red Hulk, not to mention the Red She-Hulk. I'm still not sold on
Hulk
, but I think it's a lot more entertaining than it used to be. Not only is Jeff Parker's writing much more believable than Loeb's, but Gabriel Hardman's art (which reminds me a lot of Sean Phillips's work) is more than a breath of fresh air. I'm just not much of a fan of Ed McGuinness's work.
----------------
There are other things that seem strange to me, like Betty's return and the fact that she's been Hulkified. I feel strange about She-Hulk's (the original) involvement in the title because I never really imagined her working with her cousin on a regular basis. In both cases, however, there may be really good explanations but I just haven't read the issues yet so I don't think I can really judge.
I do think, however, if they're going to keep all these Hulks working together, they need to come up with better names for Red Hulk and Red She-Hulk. Not only does it create problems when you reference one and realize you need to specify which one you mean, but it just sounds freaking ridiculous.
Regardless, so far I'm happy that I do feel at least some interest in what comes next. I was worried initially that my weekly Hulk column would be nothing but nostalgia, but now I might actually have a few things to say about current Hulkness.