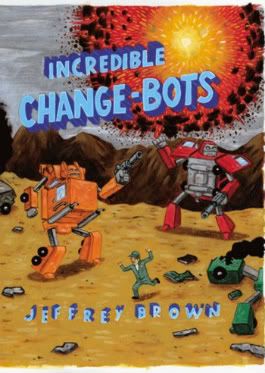 Incredible Change-Bots
By Jeffrey Brown
Published by
Top Shelf
; $15 USD
On the distant tongue twister of a planet Electronocybercircuitron are two proud races of Change-Bots: the Awesomebots and the Fantasticons. When Fantasticon leader Shootertron seizes power from Awesomebot chief Big Rig, it sparks a civil war filled with sounds like "Chee Choo Chu Chek" and a bunch of robots with bad aim. After permanently wrecking (sigh) Electronocybercircuitron, the two races make peace and flee the rusting planet. Their peaceful exodus is disturbed when an argument over the origin of the Change-Bots damages the ship and it crashes into the Earth. Once there the Awesomebots and Fantasticons try to learn how to shoot, transform into trucks and planes and microwaves and soup, and in at least one case have some loud and disturbing robot sex.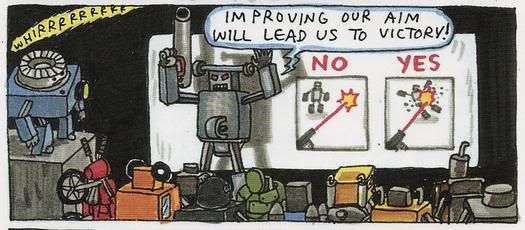 As you can probably tell,
Incredible Change-Bots
is a hilarious, fun and nostalgic parody of the
Transformers
cartoons of the 1980s. As someone who grew up watching those cartoons, Jeffrey Brown's gags seem perfectly familiar. I remember wondering why the Autobots and Decepticons both had such bad aim - just like their contemporaries on
G.I. Joe
who couldn't shoot the broad side of a barn, and whose jet pilots could miraculously bail out of their planes just as fast as the tank and jeep drivers jumped out of their vehicles just in the nick of time. I remember wondering why no one seemed to find it strange that a weird grouping of vehicles - an ambulance, a VW bug, an 18 wheeler - were grouped together rolling through a desert miles from the nearest road. Or why giant robots with legs the length of buildings would find it faster to roll on wheels. Jeffrey Brown's childlike art style is perfect in digging up those feelings of nostalgia.
The humor isn't perfect. There are a few gags that get overused. I don't know if there's an industry term for this, but in particular Brown tends to get a little repetitive with the device of putting a silent, still panel in front of one delivering the punchline.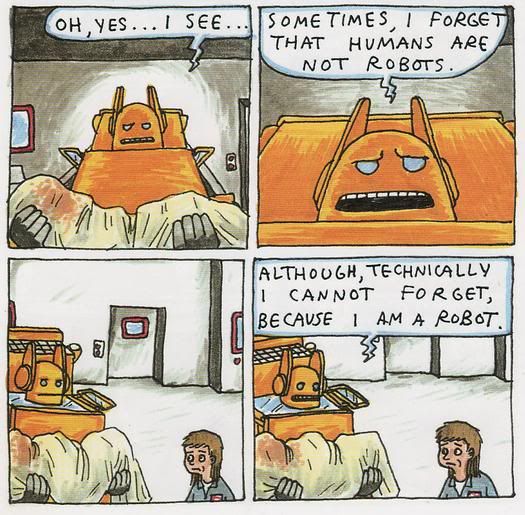 But while it has faults, there's still plenty of laughs and a lot of fun. I got my copy of out the library and I probably won't buy one for myself. I think for more hardcore Transformers fans,
Incredible Change-Bots
is absolutely essential. I, on the other hand, am happy to get my chuckles and put it back into circulation. Though I'll be looking for the upcoming
Incredible Change-Bots Two
.